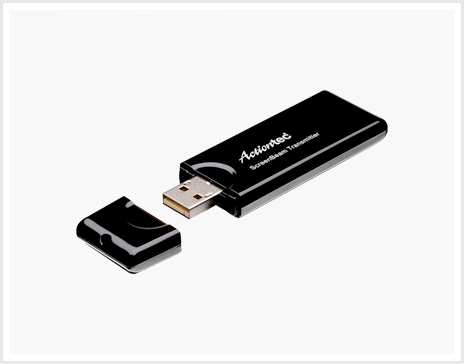 ScreenBeam USB Transmitter
Quick Overview
The ScreenBeam USB Transmitter (used in conjunction with a ScreenBeam Series Wireless Display Receiver) wirelessly mirrors the content on a Windows 7 or 8 computer to an HDTV monitor. With the Transmitter, enjoy videos, photos, and movies on the best display available, or share a laptop screen with a conference room projector. The Transmitter supports up to 720p HD video, offering the convenience of wireless technology without compromising the HD experience. And if the computer being used does not support WiFi Miracast or Intel WiDi, the Transmitter's ScreenBeam Wireless Display software supports computers running Windows 7 and 8. 
Features
 • Works with Windows 7 and 8 systems (see minimum system requirements)
• Wirelessly streams movies, videos, photos, music, applications, etc., directly to an available HDTV monitor
• Beams presentations, spreadsheets, and collaboration projects directly to an HDTV monitor or projector
• Directly connects with a ScreenBeam Receiver for better video quality; does not interfere with existing Wi-Fi networks
• Operates in 5Ghz frequency for optimal mirroring experience
• Compatible with all models of ScreenBeam Receivers
• No existing wireless network or line of sight connection required.
System Requirements
• Laptop or PC running Windows 7 or Windows 8 (32/64 bit)
• Minimum system requirements (for web browsing, presentations, or slideshows):
✴ Processor: AMD® A6 or Intel® Gen 3 Core™ i3 equivalent processor
✴ Memory: 2GB RAM or more
✴ Hard disk space: 150MB or more
✴ Miscellaneous: available USB port
• Recommended system requirements(for video streaming):
✴ Processor: AMD® A8 or Intel® Gen 3 Core™ i5 equivalent processor
✴ Memory: 3 GB RAM or more


---
We Also Recommend